According to a Media Post study, 62% of businesses use email signatures for marketing their businesses.
A whopping 82% of companies in the same study confirmed that email signatures dramatically improved their brand's reach.
Email signature marketing is a secret weapon that has the potential to bring a high return on investment in your business.
Unfortunately, not many companies are maximizing the power of this tool.
At Digitlab, we've been using email signatures to market businesses for several years.
With this article, we'll explain how you can turn every single email sent out by your employees into a great marketing campaign for your business.
Let's get started.
What Is Email Signature Marketing?
As the name suggests, email signature marketing focuses on using your email signature to market your business.
You can do a lot more with the space at the bottom of your email than only displaying your name and surname. Savvy marketers use this space for advertising their businesses.
Experienced marketers like our MARTECH Agency use email marketing technology to add an enticing call to action (CTA) in either the form of a banner, button, or even a hyperlink below the email signature.
Some of the best call-to-action ideas we've seen include:
Scheduling a video call with the department manager.
Scheduling a demo session with the company.
Even signing up for your business's newsletters.
Remember that the more emails your team sends out during the day, the more free advertising will get done on your business's behalf.
How Do I Market My Business With My Email Signature?
Using email signatures to market your business is a quick and easy way to advertise your brand.
Since we're living in the digital age, millions and millions of businesses around the globe use email as the primary source of communication.
Utilizing the free advertising space at the bottom of your email is a great way to market your business.
Here are our top tips on how to market your business with email signatures successfully:
Place a banner and link at the bottom of your email signature. This banner will allow your recipients to keep up to date with specific activities and promotions in your business.
Keep some space available in your email signature template to let people know about the latest promotions and special offers you have available. You can have various email signature marketing campaigns running at specific times or seasons in the year.
Include a live RSS feed onto your email signature, which will display the titles of your most recent blog posts online. This feed will drive more traffic to your website and get more views on each blog post.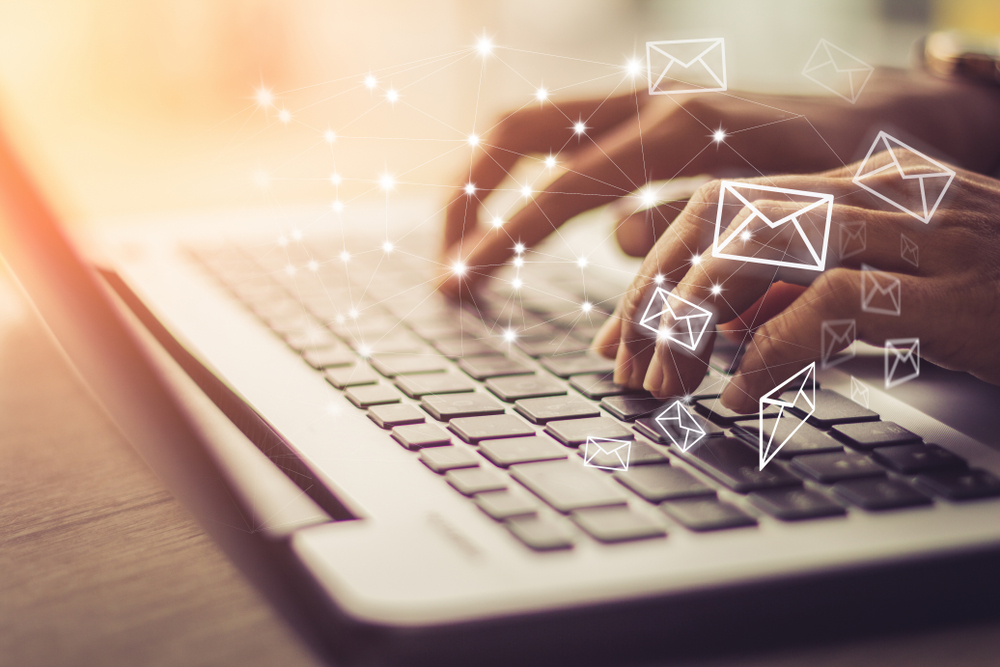 Why Should I Market My Business With Email Signatures?
When you market your business with email signatures, you'll be able to grow your brand, improve customer loyalty, and highlight your latest promotions.
By doing all of this, your business will end up making more money and thrive in an ever-competitive world.
Marketing your business through the clever use of email signatures is also one of the most affordable marketing tactics. It won't break the bank to market your business!
Another great reason we love businesses to use email signature marketing systems is that it can be done anywhere, at any time.
When you or anyone from your team sends an email out, you'll generate more leads to your website. You could also link to your social media pages and gain more followers on these platforms.
These extra leads mean that all eyes will be on your company and what it has to offer.
Benefits Of Email Signature Marketing
By now, we're sure you're wondering if email signature marketing is worth it.
Here are some of the most significant benefits your business will experience when it correctly implements email signature marketing:
Increase Brand Awareness
One of the most significant benefits of email signature marketing is that it increases your company's brand awareness quickly and easily.
Over time, your company's brand will become more recognizable among your clients, partners, and others whom you may communicate with via email.
Although this may sound great, it's essential to remember that each employee in your business must use a consistent email signature design. It'll emphasize your brand and lead to a robust, professional reputation when they look consistent.
Drive Traffic To Your Website
Email signature marketing is a great way to leverage more traffic to your website.
All you have to do is add your company's website URL as a hyperlink on your email signature for this to work successfully. Once the email recipient clicks on that link, the link will take them to your website.
Not only will you be driving traffic to your website, but you could also potentially convert this newfound traffic into sales online.
Link to other landing pages on your website that you're confident will prompt your audience into purchasing something from your company.
Improve Customer Experience
The easier a customer can reach your company, the better the customer experience becomes. An improved customer experience leads to brand loyalty and increased sales.
Including your business contact details in your email signature will help other people get in touch with your company whenever needed.
We recommend that you try to include the contact number of your employee and each department's team leader.
You could also use intelligent technology to make it easier for customers to contact your company. If you don't know how to do this – ask us!
Do You Have The Resources?
At Digitlab, one of our key goals is to help busy marketers build solid digital brands through innovative technology, hard-earned experience, and out-of-the-box thinking.
We have more than ten years of experience and want to help you grow your brand, one email signature marketing strategy at a time.
If you don't have the necessary resources or experience – contact us.
Our marketing gurus and tech wizards will quickly craft a perfect email signature marketing strategy perfect for your company.