"We love our unique new website! It turned out great, and we are proud to showcase it to the world. The Digitlab team remained positive and stuck to deadlines regardless of requests to make changes. Stacey's organised, empathetic, yet assertive, and in-control project management style ensured a smooth flow and great results. Thanks, Team Digitlab. You surely did not disappoint."
Erika Myburgh, owner and founder of MedE Recruit, wanted her standard recruitment website to match the company's innovative, industry-disrupting approach to finding and placing talent. This led to discussions around how the existing website could be redesigned to portray the MedE Recruit team's vibrance and passion for recruitment. 
Digitlab kicked off this website project with business scoping workshops, where we got a clear vision of what Erika and her team hoped to achieve with their new website. They wanted an appealing website that stands out in a sea of generic recruitment websites, bringing fun and energy to an otherwise uninspiring industry landscape.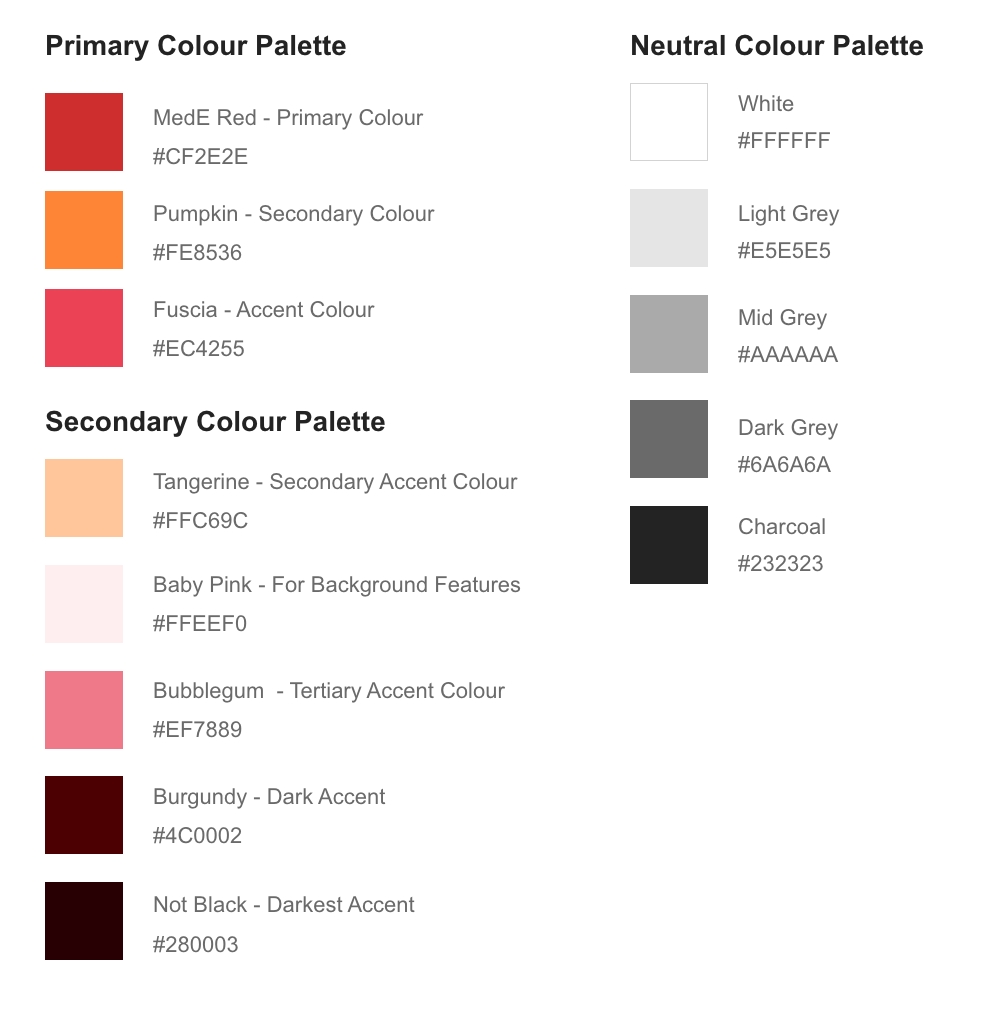 The new MedE Recruit colour palette created to coincide with the original primary colour – "MedE Red." 
The original MedE Recruit website colour pallet was limited to red, black and white. We decided to expand this selection with accent colours, like orange, and introducing lighter shades of the original hues for colour diversity. 
MedE Recruit attracts a steady flow of sterling testimonials and reviews from satisfied candidates and clients. We wanted to display these proudly on the new website, fostering trust and credibility, leading to the inclusion of testimonial sections on the new Home and About Us pages. 



Testimonials from the MedE Recruit website
We opted for colourful illustrations over standard medical-related imagery. These helped the website stand out in comparison to competitors. The style is flat vector illustrations, which were primarily recruitment influenced but with subtle medical-related visuals. We chose to move away from black and white photography, opting instead for colour staff photographs to better align the website's visuals with the company's personality. 

The introduction of a new colour scheme further enhances the overall aesthetic, injecting fresh energy and vitality into each post.
Abstract imagery for blog articles
Vacancies page walk-through. This page was integrated with "Ditto Jobs" which was customised with CSS to match the new look and feel.
Recruitment platform integration
MedE Recruit hosts their medical industry job vacancies on a 3rd-party recruitment platform – Ditto Jobs. We ensured that the new website integrated seamlessly with their recruitment platform of choice, so that candidates can explore details of job openings and apply with minimal friction. 
The final product was a vibrant, innovative MedE Recruit website that looks and feels aligned with the company's personalised, empathetic approach to recruitment. An enhanced user experience (UX) journey made the services offered by MedE Recruit clearer and easier to understand, and made getting in touch simpler. The new website is more visually engaging and pleasing to the eye, and scrolling movement in certain parts helps with visual engagement. 
MedE Recruit Homepage walk-through
MedE Recruit is a team of six remarkable ladies who share a genuine passion for recruitment in the private medical, healthcare and dentistry industries. They work with business owners looking for talent and candidates looking for new roles, and also assist with listing and selling private practices.