About

City Lodge Hotel Group
South African-born hospitality giant, City Lodge Hotel Group (CLHG), boasts five well-known, distinct subsidiaries providing customers with comfort at a price that suits their pockets.  
Guests can choose the basic, functional rooms of their nearest Road Lodge, or splurge on the magnificent luxury studios in Courtyard Hotels scattered across South Africa.  
CLHG offers guests many ways to experience unbelievable service and exceptional accommodation at different price points.  
They have also extended their footprint further into the African continent, including a stunning new City Lodge Hotel in the heart of Maputo, Mozambique. 
The Challenge 


August is Woman's Month in South Africa, when brands and people alike come together in support of women everywhere.  
For 2022, we wanted to present a theme that embodied the collective power women share; the power to give life; the power to bring about change; the power to achieve more than those who came before us believed possible.  
We also wanted to show just how effectively a well-planned, carefully thought-out social media campaign can drive positive month-on-month results across key metrics on channels like Facebook and Instagram.  
It was going to take a strong message to do this idea justice. From this idea grew the concept of #WOMANDLA, which looks as strong as the concept it represents. 
'Amandla' is an isiZulu word meaning power. Combining it with 'woman' brings into life a phrase that describes the inner strength of women; many of whom don't always get the recognition they deserve.  
#WOMANDLA women include the nurses, on the frontline protecting us all. They are the teachers, giving the next generation the best shot at success. They are the stay-at-home moms, looking after their families' day-to-day needs.  
These are the women City Lodge Hotel Group wanted to honour during Women's Month 2022, so we set off to do this important social media campaign justice. 
Our Role
We stepped in with our social media marketing agency expertise to help drive awareness of the #WOMANDLA campaign, and to showcase the amazing accommodation specials and unique dining offerings that were available at selected CLHG properties.  
The media planning around this campaign involved the use of static imagery, video content, website content (blog) and an email newsletter. 
Snippets of Animation
Our Solutions
The creative 
Our creative approach encompassed multiple content formats, including video, carousel posts, and single image posts. Relatable, authentic imagery was used across designs, bringing together inspirational messaging with strong calls to action. 
Execution
Executing the #WOMANDLA campaign involved posting engaging campaign content across Facebook, Instagram and Twitter pages.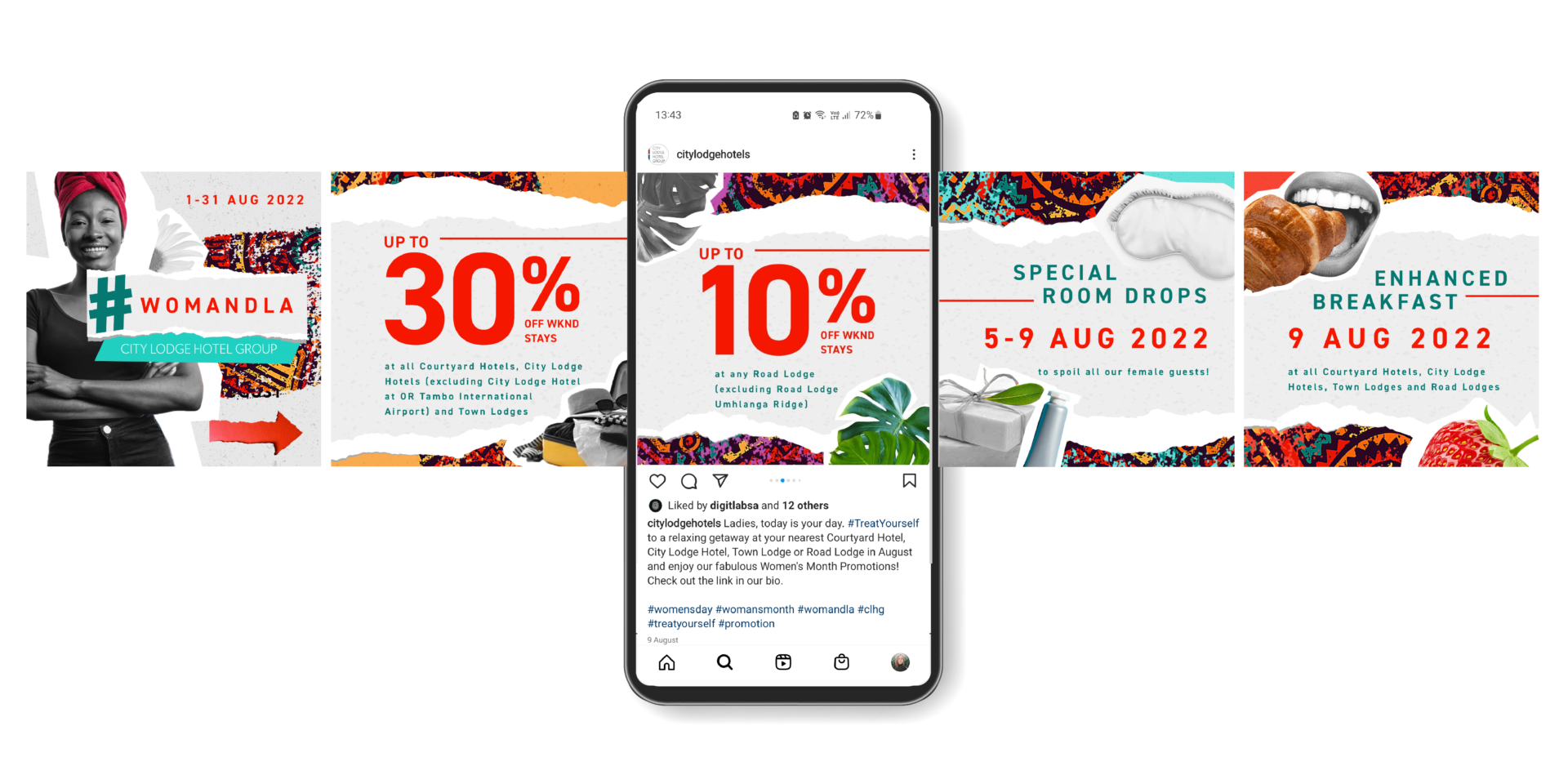 Multiple Instagram Posts
Our campaign objectives were to celebrate Women's Month in an inspirational way, while making the loyal City Lodge Hotel Group followers aware of the great promotions during that month.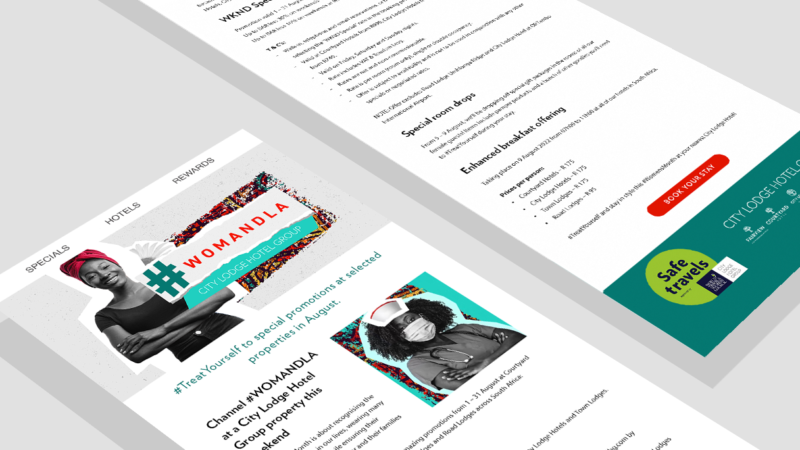 Newsletter
"This campaign was a great opportunity for the City Lodge Hotel group to pay tribute to our strong South African woman in a proudly South African way! From the high-powered executives to the incredible stay-at-home moms and every lady in between, the vibrant creative was used to showcase and celebrate woman for everything they contribute to our beautiful nation." 
– Marc Fielers, Creative Director | Digitab 
The Results
The #WOMANDLA campaign yielded excellent month-to-month results for our client, with some of the biggest wins being: 
64% increase in impressions on Instagram

 

23% increase in profile actions on Instagram

 
50% increase in page likes on Facebook

 

5% increase in link clicks on Facebook

 
"Our #WOMANDLA Women's Month campaign resulted in fantastic engagement and community growth across City Lodge Hotel Group social media. Digitlab continues to prove that careful strategy, inspired creativity and solid project delivery are keys to success in social media marketing." 
– Zuki Jantjies, Divisional Director: Sales and Marketing | City Lodge Hotel Group