About The Durban FilmMart
Durban FilmMart is a joint programme of the Durban Film Office (DFO) and the Durban International Film Festival (DIFF) and takes place in conjunction with Durban International Film Festival. The Durban FilmMart Finance Forum provides selected African filmmakers with the opportunity to pitch film projects to leading financiers. The Durban FilmMart also facilitates networking opportunities for African and international filmmakers to form alliances for the future.
The Durban FilmMart aims to:
Raise the visibility of projects from the African Continent and create networking opportunities with potential co-producers and other industry partners.
Facilitate funding for promising projects and accelerate the financing of participating projects through transnational cooperation.
Stimulate the production of African content and promote international co-production opportunities.
Encourage project collaboration between African filmmakers.
Act as a feeder stage for established co-production markets across the globe.
Our Challenge
In the true spirit of Africa, a global pandemic would not stop the 11th edition of the Durban FilmMart. With the country in lockdown, it would require a unique innovation to ensure that African & international filmmakers were able to gather & network.
The challenge was twofold:
To break past the current boundaries of virtual conferences & deliver an experience that is "more than just a Zoom session"
To market the conference over multiple digital channels & achieve an audience of 1000 film industry professional attendees over the 5-day event

Our Role
Digitlab was the digital marketing agency tasked with attracting over a thousand attendees to the conference. Digitlab were also the technology partner, providing the broadcast and technological backbone to the conference. We handled the entire attendee experience from the first marketing email coupled with social media and online advertising, to the registration, the payment, the conference platform, the webinar delivery, the broadcast-level production and finally the supporting data analytics.
Our Solution
The Marketing
The Marketing Campaign was built on an insight that "talent is universal, but opportunity is not". The Durban FilmMart represents a wealth of opportunity for aspiring filmmakers, financers, networks, co-producers to name a few. The Marketing Campaign brought to life the rich opportunities available at Durban FilmMart. Campaign content profiled industry thought leaders and pioneers that were part of the speaker line-up, relevant content topics and industry challenges that were on the agenda as well as highlighting success stories and testimonials from previous Durban FilmMart attendees. This provided a holistic view of the rich opportunities available at the Durban FilmMart.
Count downs and time-sensitive offers were also leveraged to create a sense of urgency to register.
A selection of channels were used to create awareness and convert to sign-ups. This included PPC & Display, social media advertising & email marketing.
Alongside the digital marketing activity, a PR campaign was rolled out through Communications & Public Relations agency – Versfeld.
Creative Idea
As this was a Pan-African virtual event we needed to provide possible delegates with a clear reason or hook as to why they should attend the conference and what they would get out of it. The target audience was the film industry in general including funders, sponsors and investors in the African film industry. Through our research, we uncovered 3 very clear unique selling points for the conference. Namely, delegates could learn from other people in the film industry, network with other suppliers and pitch their ideas to possible funders and sponsors.
As the creative had to transcend many different languages barriers we had to make the message very clear, simple and easy to understand and always end off with a call-to-action, which was registration sign-ups. We created many different assets across social, email and advertising platforms but in summary – here is the 60-second launch video and the launch day video.
The Media Plan
The first phase of the media plan looked at gaining awareness through reaching a large volume of people that matched the targeting criteria. Some of the criteria included:
Existing DFM followers on social media
Lookalike audiences based on existing DFM social followers
Custom databases supplied by the client
Targeting based on demographics, geographic, as well as interest and behaviour categories
Users who already knew about DFM
Users who potentially have never heard of DFM
Broad-scale event awareness through Google Display's massive reach and visual nature
The second phase of the media plan was to convert these users using these strategies:
Facebook remarketing was used to target users who have previously engaged with DFM content, the DFM page as well as the awareness ads.
Users were served lead generation content across all platforms with a priority on lowest cost and capped bidding, ensuring that the highest quality lead is attained at the lowest cost without exceeding a certain CPA value.
Google Search was prioritised to compete for relevant keywords so that searchers were served DFM ads.
We also incorporated "competitor bidding" on Google to place DFM ads in searches for things like "Durban Film Festival" or "Cannes Film Festival".
Display remarketing was used to capture users who landed on the website but did not convert.
Overall, the key to the DFM Media strategy was proactivity rather than just reactivity. This approach was used so that we were constantly having eyes on the data. It got to a point where we could predict how a post was going to perform based on other similar ad sets in the campaign and, as a result, we could make a call to shift budgets or change up targeting strategies etc.
The Virtual Conference Production
In a first for the African continent, the annual Durban FilmMart #VirtualEdition brought together leading & emerging African film professionals, industry partners & leading financiers to form alliances & create networking opportunities – all from their homes. This was always going to be an ambitious project – to bringing broadcast level production into a webinar.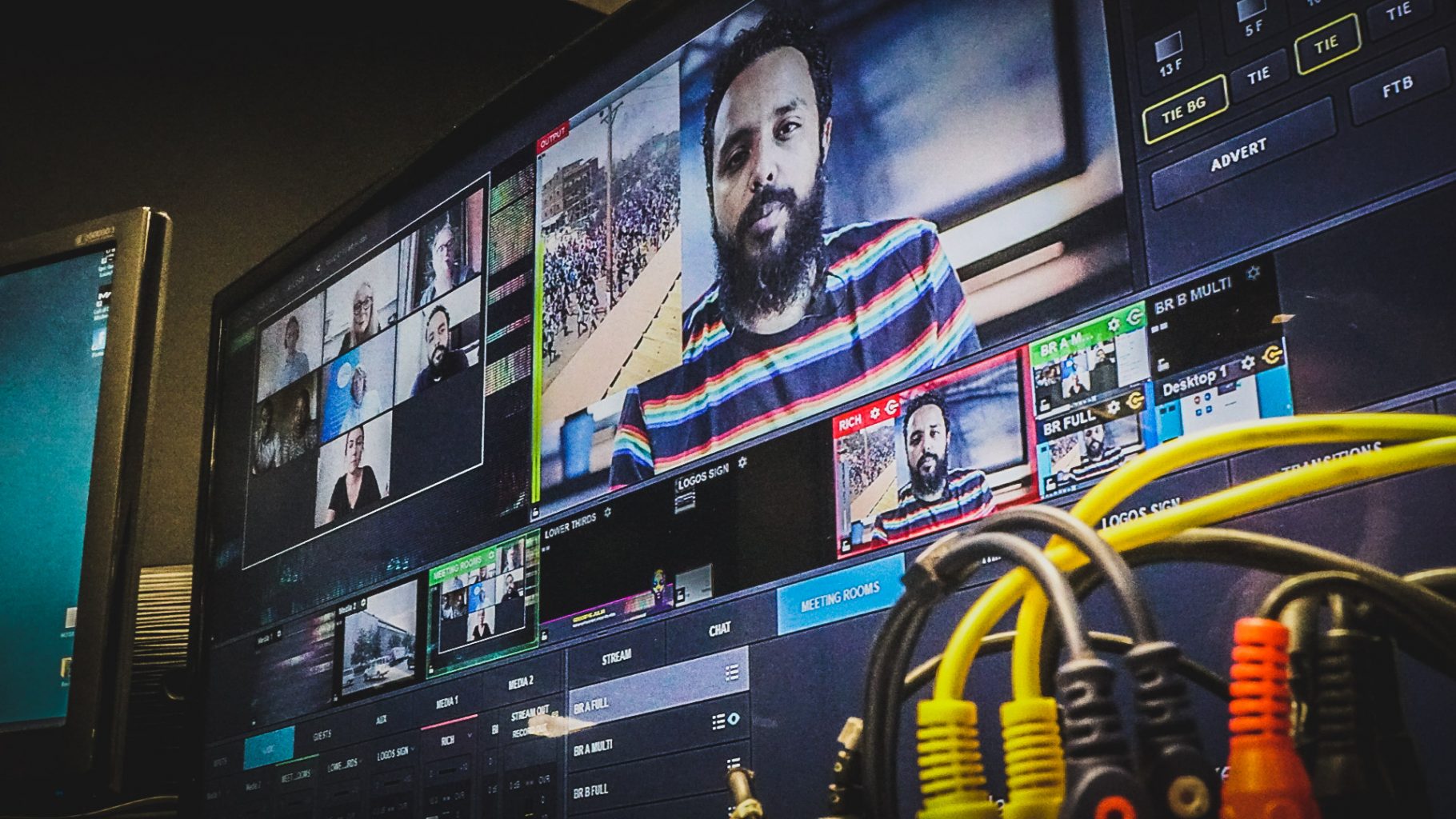 A 40-strong production crew was assembled, with Digitlab being brought in as the point on the project; offering innovation, prototyping & marketing. This included:
Zoom integration development
Development & integration of French interpretation & sign language technology
Mobile App development & maintenance
Registration platform development & maintenance
Website development & maintenance
Online Conference programme management
Management of Broadcast Programming
Panellist Liaison & hosting
Facilitating audience engagement within the live broadcast
Copywriting of Conference Communication to partners, sponsors & attendees
Conceptualisation & creation of video & static content (pre- & during broadcast use)
Broadcast level virtual production
We partnered with Zoom.us to bring speakers and panellists into a virtual studio that was not accessible to the public. This virtual studio meant we could control the output broadcast feed in a way that had never been done before. In the virtual studio, we were able to live mix video and audio feeds alongside high-quality creative assets. This created a vibrant and professional event experience that included engaging panel discussions, interactive audience participation, French translators and sign language interpreters. All virtual, from all corners of the earth, and delivered seamlessly within a single high-quality broadcast production.
The Virtual Event Platform
Our event platform broadcast facilitated a five-day conference with four simultaneous content streams. In total, our platform facilitated the promotion, delivery and the participation of over a thousand delegates who engaged in over 60 hours of content.
The Results
The Marketing Statistics
1059 Attendees to the conference
16 288 Social Media and News Mentions
Advertising reach of 7 500 000
9 013 website visits converting 1 059 registrations – that's a conversion rate of 1 sale in every nine visitors
98% positive sentiment for the event on social media
The Conference Statistics:
4 simultaneous broadcast channels
55 sessions & networking events over 5 days
Live broadcasting for 78 hours
1000+ delegates from across 66 countries
1.6TB of content produced over 5 days
Notable Insights
The time-strapped Decision Makers who are integral to drive investment decisions in the Film Industry have been able to take part in the Durban FilmMart Virtual Edition more than ever before. The conferences attracted more than five times the amount of industry decision-makers than they normally attract with a physical event.
Each day, the conference was attended by over 1000 people. That means that over 95% over the attendees returned to the event every day – showing that the unique blend of technology, broadcast production and programming held the attention of the audience
Testimonial
"Over and above the high production value of the event, and the no fear commitment from your teams, the digital marketing strategy was beautiful, insightful and impactful. Digitlab was on point in their approach, and it was amazing to watch all these elements weave together. Their understanding of this space creatively and strategically is really quite something to behold. I am humbled!" Toni Monty | Senior Manager | Durban Film Office